GRAVESTONES
An eternal problem in cemeteries is the placement of tombstones, since classical concrete base point is not reliable in the long run. As a solution to this problem, we prepared the following technical solution and the possibility of mounting the tombstone:

Mounting the tombstone with concrete reinforcement.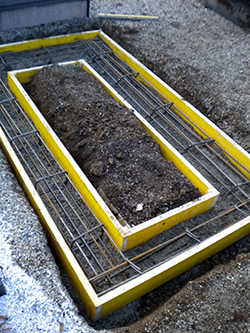 CULTURAL HERITAGE
The process of making replicas of reliefs, sculptures, coats of arms, capitals ... on the basis of an archival image or an existing original with laserless scanning in 3D technology and making replicas of natural stone, polystyrene, wood, bronze, brass, aluminum or other materials.

1. Sculptor modeling of the original based on the image
2. Optical scan of the original or model with a 3D laser
3. Processing of the read data and G-code with the CAD-CAM program
4. Milling the replica to the 3-or 5-axis machining center CNC
5. Manual final detail finishing

KITCHEN COUNTERTOPS AND BATHROOMS
Installation of the trough in the kitchen counter, which can be installed from the lower (subgrade) or the upper side (overhead).
FIREPLACES, PORTALS, A RANGE OF GARDEN PRODUCTS
Before installing a portal or a solid window frame, a sufficiently large recessed opening must be prepared before installation and the thickness of the insulating material of the facade must be taken into account.

SHELVES, STAIRS, CLADDINGS
Installation of classic stone steps laid in cement mortar:
For a classic installation, we need 5-6 cm of light in height and depth. The thickness of the performance plates is usually 3 cm and the thickness of the forehead is 2 cm. The rest is needed for cementitious concrete cement spill. A staircase shoulder that is not properly embedded, is transformed to achieve a uniform distribution of the stairs in height and depth. With this staircase, we ensure functionality and orderly appearance and the user needs security.